The following testimonials are from verified residents and families whose lives have been touched by Mira Vista Court. Their heartfelt words are a reflection of our commitment to providing residents with a warm and nurturing environment that fosters respect, trust, reassurance and healing.
My mom was transferred there after a broken hip. The admission process was very easy and Ashley was so helpful and kind to explain everything to me plus go over insurance benefits. The staff there are lovely people. Whenever she needs to press the call button for any reason they are quickly there and ready to help no matter of the smallest task. When we had an appointment with the surgeon away from the facility the transport was easy and Victor was so very nice and patient with us taking every precaution to keep my mom safe and comfortable. I highly recommend Mira Vista Court! Thank you for easing my mind while my mother is healing during this difficult time!!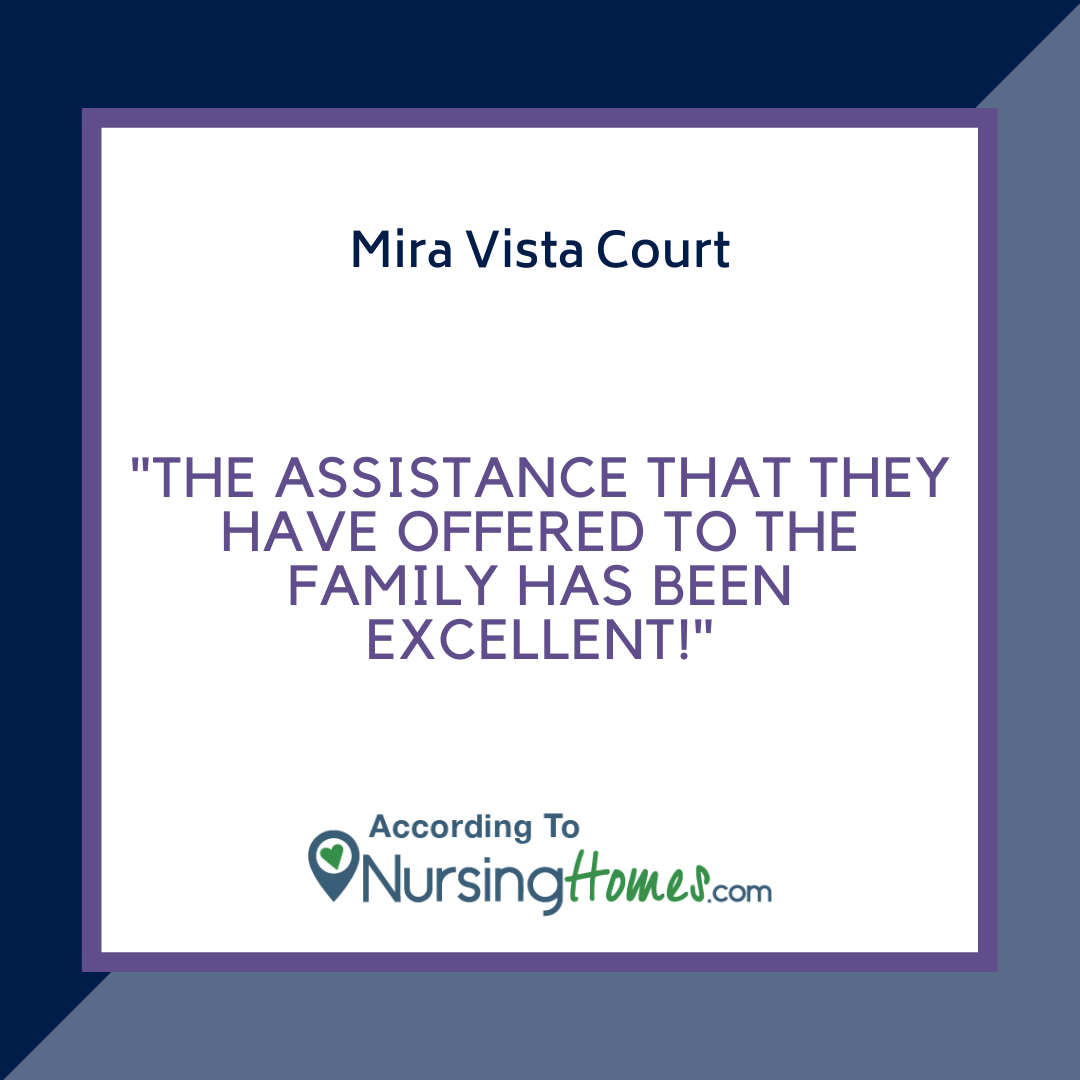 Over the course of several months my sister has been a residence of Mira Vista she has been taken care of in a professional and caring manner. The receptionist is a wonderful person she is very professional and friendly she deserves a big raise! The other staff members are great they also act kindly toward the residence and the family members. 
I was in [physical] rehab for a couple of months at Mira Vista Court. I had a lovely room. The food was excellent. I worked with the physical therapy department and they were very professional. They were very good; they got me back on my feet. I had a private room. It was quite large, and it was very nice. I was there for two months. They gave me excellent care.
My loved one is overall pleased and my heart can rest easy. They are kind and patient. The food is good and they braid her hair. I told my mom that if she moves in here, I am going to see what it would cost for me to eat here. The respiratory therapist, admissions director, and person at the front desk are all pleasant and helpful. The charge nurse is very helpful.
Testimonials – NursingHomes.com